Starting with the show reports…
Minnie was Select Bitch in Atlanta on Sunday at the supported entry on the Southern Specialty weekend! She also was OHBOB and went on to an OH hound group 1!!!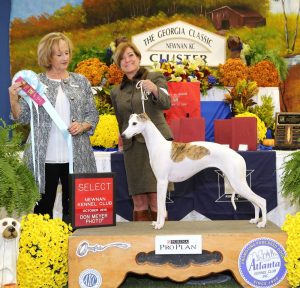 Our next big news… Helga was WB for a 5 point major in Knoxville! She only needs that last major to finish. Minnie was Select bitch on the same day. Great day for the girls.
On the coursing front…. Tanner is so so so close to his Dual Championship. He only needs one single point on the field. He will be the first dual champion from that litter. His sister is also a FC and an ASFA Fch and on to the next news……
I QC'd both Minnie and Helga at the Powell, TN trial. On Saturday, Minnie won open and Best of Breed for a 4 point major! Below is her breed run
[embedyt] http://www.youtube.com/watch?v=7K8gp6LbqYE[/embedyt]
On Sunday, Helga won open for her first coursing point. It was a small but very competitive field. What a great fall we have been having! This is her run for 1-2 breed
[embedyt] http://www.youtube.com/watch?v=HDJPT95r2Uk[/embedyt]
Helga still has her Monday visits at Children's hospital and loves all her kids there. Minnie and Chroma just finished up dock diving season which they both love so much. We are going to try that more seriously next summer!