I will update with the older puppies from Taylor X Chroma in 2013.  Very proud to say that Tanner "CH Aperture Longleson Go up the Plumcreek SC FCh" won an AKC major in NJ coursing.  Moving on toward his DC! His sister "Aperture Go For Broke Up The Plumcreek SC" came in third behind her brother and is also getting close to her AKC FC. Could not be more proud of those puppies!!  Helga is doing well with her therapy work and enjoying her time in the show ring. We have some big shows planned for the fall!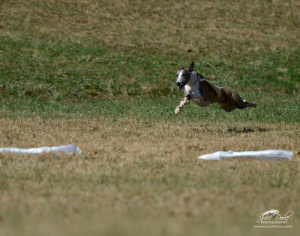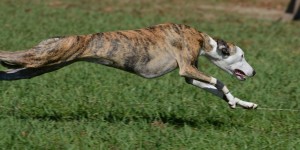 Now, on to the current Mark X Chroma litter. They are 12 weeks old and all doing wonderful!! Everyone has their homes and all reports in new homes are great. From reports, all have been easy to housebreak and really as well behaved as you can expect baby dogs to be 🙂  I'll start with the first to go home to the last…
Martin is now named Hamish "Aperture Whistling Buster" and living a perfect life in VA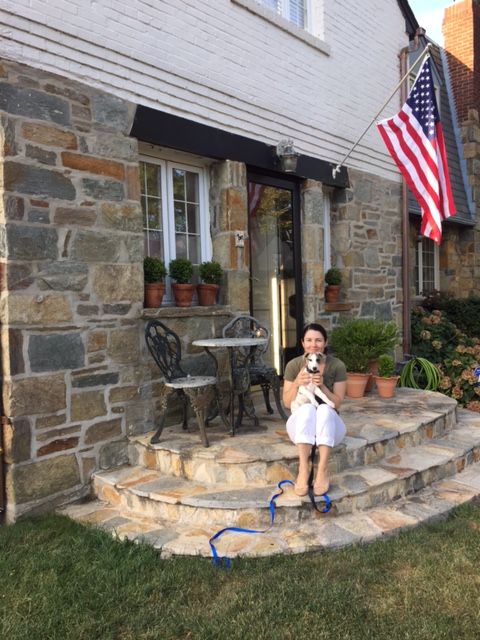 The next to go home was Panto, who is now Rubin "Aperture Almost Fawn Flare" He loves his new family full of kids and a 15 year old whippet sister who finally will allow him to play with her.
Then there is adorable Lulu "Aperture Dancing Butterfly". She is loving her home as an only child and the princess of the house. She has gotten to go to a lure coursing trial and meet lots of whippet people. She was a huge hit 🙂 (Thanks Kristy for the wonderful photos!)
Alexa is living the great life in Atlanta, getting to be a greeter dog at their store and gearing up to be a show dog in the future.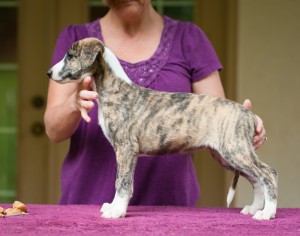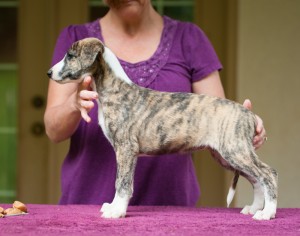 Link and McFadden, whose name is now Flyer are up in IL with Linda. Doing beautifully and being gorgeous. Flyer's new name will " Aperture Sparks Fly at Plumcreek" and not sure on Link yet.
We are getting down to the final picks….
Clara "Aperture Phandemonium" is going Boston (and co-owned with me)to be a show dog, an obedience dog, do some coursing and possibly some dock diving. She sure loves the water and is certainly beautiful!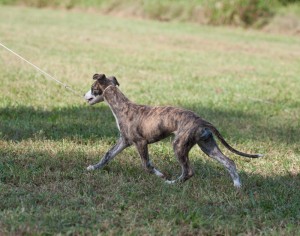 So that leaves one. The one staying.  I let Larry choose this time. There really wasn't a wrong choice in this bunch. This was his favorite from the start and he birthed the litter. So "Aperture Red, White and Boom!" is the keeper. Minnie or as often we call her Piglet!